Polysheeting Hangers (Style 3) - 10 Pack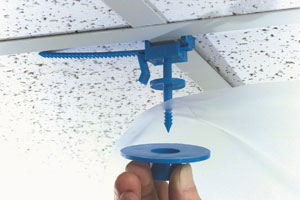 USE FOR: Pro-level fasteners to attach plastic polysheeting to walls, ceilings, posts, etc. - Polysheeting hangers are an alternative, more professional way of fastening polysheeting in place, as opposed to using zip ties, duct tape, staples, etc. If you want your plastic sheeting to look more professional and stay in place more securely, these are for you.
Poly Hanger style 3 supports poly from ceiling grids and other objects, both horizontally and vertically. Poly is installed over the pin and is held in place by a removable retainer.
SPECIFICATIONS:
• Sold in packages of 10
VIEW IN OUR STORE